<<< OFFER 8/11/21-21/11/21 >>> Retail Opportunity Versaty 3 Pack + KeraPrime 3 Pack + Special D'Or Duo Pack With FREE Acai Nutri Care Oil
What can be a better present XMass present for any client who has it all than an amazing hair products?
Christmas is coming and with it its an amazing retail opportunity for any salon owner as well as mobile stylist. We have been talking in the past about the importance of incorporating retail into both salons and mobile businesses!
Once you embrace the philosophy of educating your clients in the aftercare concept, you are generating extra income added without needing to find more clients! Your average bill could be bumped up by £30+ pounds per customer ... simply multiply this to 50% of your clients (not everyone is going to buy) and you get the idea.
Now, most salons have different clientele with different needs for their hair. Our selection is covering it all with our retail packs and you get Acai Oil as a free bonus too!
Our offer consist of:
Versaty Shampoo, Mask, Conditioner - for coloured hair
KeraPrime Shampoo, Mask, Conditioner - for keratin treated hair
Special D'Or Shampoo, Mask - for dry frizzy, coarse hair
All shampoos are sulphate and paraben free.
BONUS Acai Nutri Care Oil for all hair types especially medium fine, highlighted or coloured hair to add shine and softness.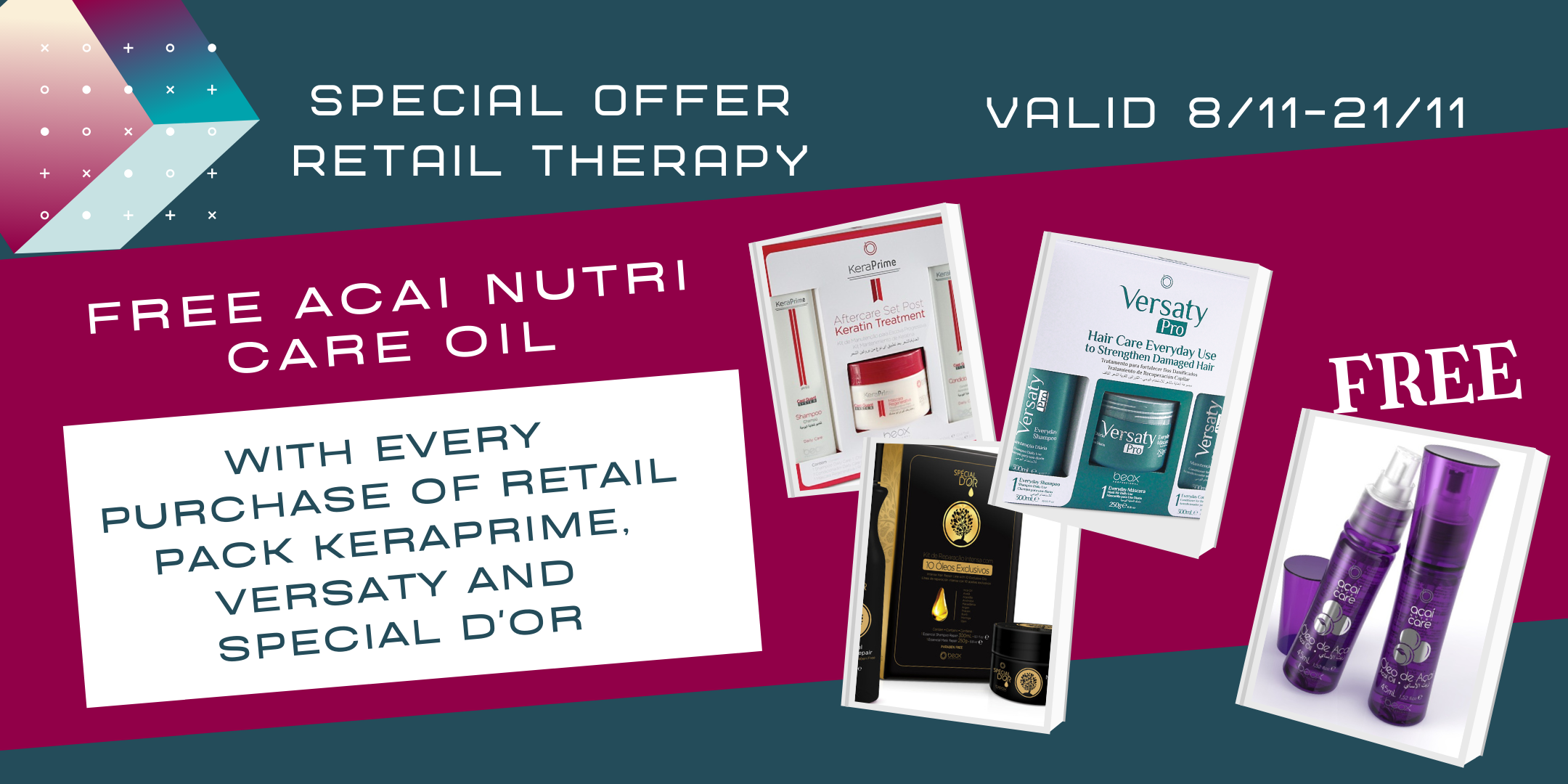 VERSATY Everyday Use Pack 
Professional products with added keratin designed to help the recovery of hair from chemical or mechanical damage leaving hair extremely strong, shiny and healthy.

Everyday Shampoo - With Coconut Oil and Keratin, gently cleanses, nourishes and moisturizes the hair.

Everyday Conditioner - Formulated with Coconut Oil and Keratin smooths damaged and chemically treated hair, leaving it soft and shiny.

Everyday Mask - Rich in keratin and coconut oil, it nourishes and repairs the hair fiber, leaving hair soft, shiny and silky.
KeraPrime Keratin Aftercare 3 Pack has been specially developed for the aftercare of keratin-treated hair to achieve longer-lasting results.

These exclusive formulations use Cast Guard System to add protection to the hair, while cleaning and conditioning, strengthening and restoring keratin and vital nutrients.

The results are healthy, shiny, deeply nourished and silky smooth hair.

Active ingredients
• Exclusive Cast Guard System compound: A compound rich in nourishing vitamins, proteins, and oils, with high antioxidant and nourishing power, it increases strength and reduces strand porosity. It restores the molecular weight and creates a cationic polymer, protecting the hair from heat and prolonging colour and smoothness for much longer.

• Olea Europaea Fruit Oil (Olive Oil): An excellent natural emollient providing smoothness and vitality to the strands. It is purifying and calming and recovers elasticity, besides providing a lot of shine to the hair. The oil is also a powerful antioxidant, indicated for coloured hair as it provides a more vibrant colour for much longer, besides rejuvenating the capillary fibre, thus avoiding cracks and consequential breaking.
The Special D'Or Intense Hair Repair Duo contains from shampoo and mask that is made with 10 exclusive oils, it deeply treats dry and damaged hair, repairs split ends and elasticity, revitalizes, rejuvenates, and adds shine.
Eliminates frizz

Smooths the hair

Adds shine

Easier to manage
 Active Ingredients Inca Hazelnut Cotton Andiroba Macadamia Argan Pracaxi Buriti Moring Ojon
Açai Nutri Care Oil rs our latest addition to our BEOX products range. Its light non greasy formula is easy to apply both before and after blow dry. It will add moisture, softness and shine to hair while restoring lost minerals and UV filter to protect the hair from ageing.
suitable for all hair types

this lightweight oil eliminates the frizz

nourishes and restores individual hair strands

adds shine and softness making hair silky and smooth
Infused with powerful antioxidant Vitamin E it prevents the hair from aging leaving it restored, shiny, and frizz-free.
Please feel free to download our supporting marketing materials:
Please login for pricing
There are no reviews for this product.
Leave a review
Delivery & Refund
Prices for the products on this website and the shipping charges above are excluding VAT at 20.0% and will be added on automatically at checkout.

Delivery will be made to the address specified when you make the order.
For all UK orders, we aim to deliver items within 3-5 working days (weekends not included).
Please note that some products will be delivered from our sister warehouses and therefore your order may be split to more that one independent deliveries.
Whilst we make every effort to ensure all deliveries are completed within the said time, we shall not be liable if we fail to do so in part or in full due to circumstances beyond our control.
We shall contact you to let you know if we are unable to deliver an item within the delivery time given.
For orders despatched by airmail, please allow 7 - 21 working days.