<<< OFFER 25/10/21-7/11/21 >>> Purchase 1L KeraCoffee Maximum Straightener, Receive FREE Aftercare Retail Pack, Suitable For All Hair Types
Why is aftercare so important for you and your client after keratin treatment services?
When client comes to you with her frizzy, hard to manage hair, she is expecting to work your magic and be transformed in 2 hours form Diana Ross to smooth Beyonce, right?
She is expecting to be in your chair for up to 3 hours and spend £150+ depending on her hair and your price structure.
As an expert in your field it comes without saying that you will advice her on how to keep up her hair in the best condition possible and on hot to prolong the effect of this service. One it the major factors is aftercare.
Sulphate free products are gentler to the hair and they keep not only keratin, but also colour in the hair for longer, thus clients hair feels smooth, shiny and looking great. She would love you for this!
We advice you to ADD aftercare into the price of your keratin services and this is for 2 reasons:
 Your client will receive FREE aftercare that is great marketing pull (you have bumped up the price already)
 Your client will come back for more once she runs out, this means extra revenue for you without finding more clients.
We are more than happy to advice you in more detail about this structure, please do not hesitate to reach out to us!
So, with this offer we are giving you FREE retail size aftercare pack of KeraCoffee shampoo, mask and conditioner with every 1L of KeraCoffee Maximum Straightener.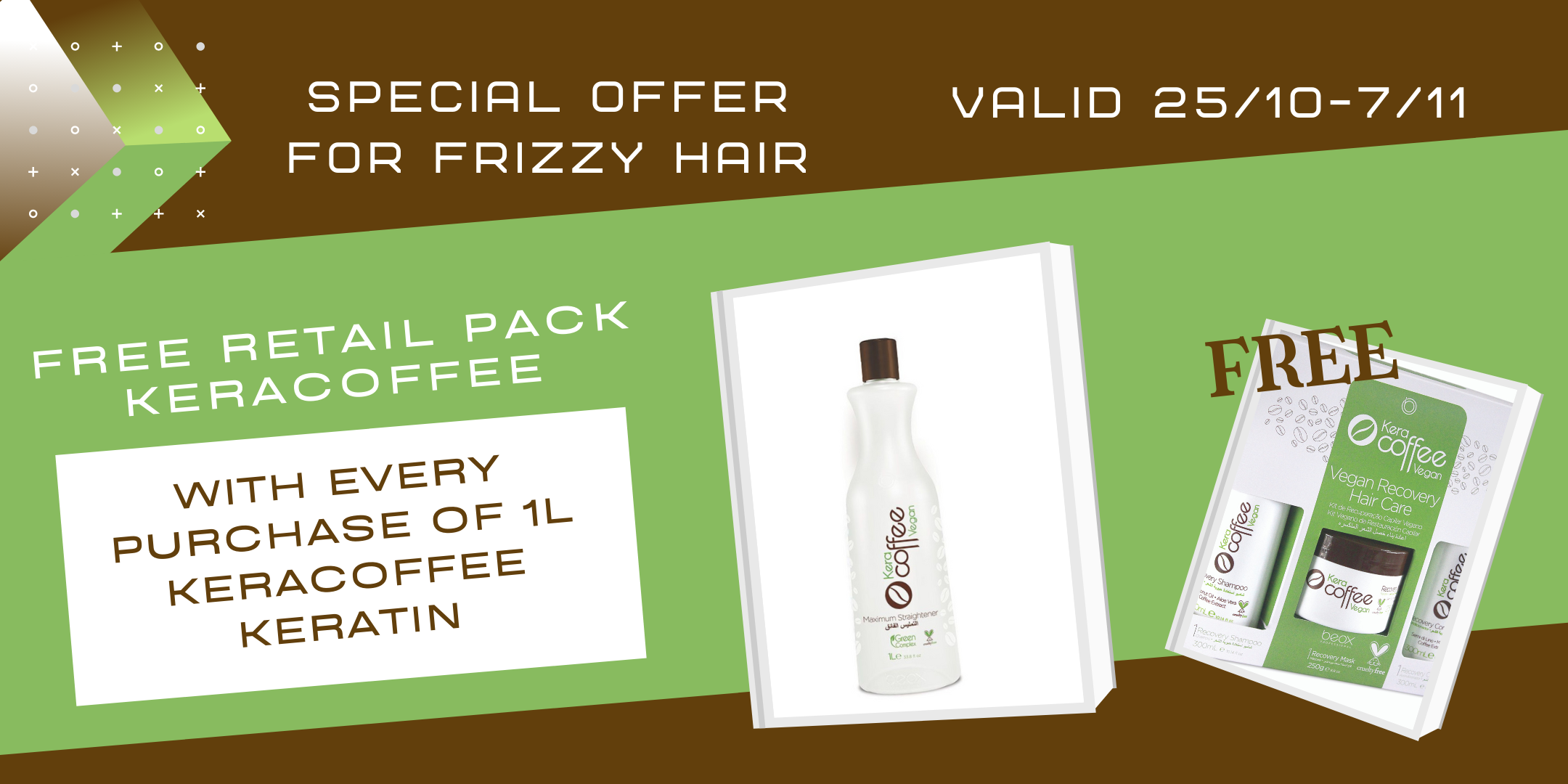 1000ml KeraCoffee Maximum Straightener is a unique hair straightening & smoothing treatment containing the exclusive Green Complex. It significantly reduces the volume and adds an extreme shine to the hair. This vegan product is 100% Formaldehyde free made from Organic coffee beans. It is suitable for all hair types.

Supporting KeraCoffee Recovery range containing Shampoo, Conditioner and Mask are all Parabens, Sulphates, and Silicone-free and vegan. Products are suitable for all types of hair.
___________________________
Are you introducing this product to your salon? Then upgrade to our Salon Starter Pack!
In the Starter Pack you will receive:
FREE Certified Online Training (worth £149+VAT)
1x KeraCoffee Maximum Straightener 1L
1x KeraPrime Purifying Shampoo 1L
6x KeraCoffee Recovery Shampoo 300ml
6x KeraCoffee Recovery Conditioner 300ml
6x KeraCoffee Recovery Mask 250g
Accessories: bowl, brush, apron, comb, scales, sectioning clips, ear protectors
Note: You will receive a link to your Online Certified course after the purchase
Please feel free to download our supporting marketing materials:
Branding Kit KeraCoffee
Manual KeraCoffee

Please login for pricing
raiting star
raiting star
raiting star
raiting star
raiting star
I have just bought this and am excited to try with my customers with coarse and thick hair. The brand representative was very knowledgeable and gave me tips towards using this product for a different client base
Leave a review
Delivery & Refund
Prices for the products on this website and the shipping charges above are excluding VAT at 20.0% and will be added on automatically at checkout.

Delivery will be made to the address specified when you make the order.
For all UK orders, we aim to deliver items within 3-5 working days (weekends not included).
Please note that some products will be delivered from our sister warehouses and therefore your order may be split to more that one independent deliveries.
Whilst we make every effort to ensure all deliveries are completed within the said time, we shall not be liable if we fail to do so in part or in full due to circumstances beyond our control.
We shall contact you to let you know if we are unable to deliver an item within the delivery time given.
For orders despatched by airmail, please allow 7 - 21 working days.