TOP TIPS ABOUT KERATIN TREATMENT FOR HAIR PROFESSIONALS
When using BEOX Professional products :
KeraCoffee Maximum Straightener
KeraPrime 1 Step Solution
Royal Gold 24K Luminous Straightener
Recently, I have been asked why you should do extra training for BEOX Professional products if you have done keratin treatment in the past. Well, it's like driving a car. The car will get you from A to B, the keratin treatments will make your hair frizz free, straighter and shinier. But it is about the journey and how you get there… each car is different; manual/automatic, petrol/diesel, can/mini/4x4/truck… they all get you to the destination but you still need to know the ins and outs on how to drive them. The same is with keratin treatments. Companies bring different products to the market and I can guarantee you that they all have small differences on how to use them correctly.
So, to answer your question, YES you should get training in every new product you start using, especially when it involves the general public, to comply with your insurance.
There… that's out of the way, let's talk about the actual process.


Do I need to pre-shampoo the hair using purifying shampoo?
The answer is both YES and NO
YES - if the hair is overloaded with products, oily, or virgin with closed cuticles, we do recommend to pre-shampoo with purifying shampoo to gently prep the hair before application of the treatment.
No - if the hair is clean, you can just wet it using a water spray, making sure it's dampened evenly all the way through. Clients can use the KeraCoffee Recovery Shampoo at home to prep the hair with if they wish to.


Application - on dry or wet hair?
Our products are applied onto damp hair. The reason for this is because:
When hair is lubricated with water, the product's application is easier and glides onto the hair shaft when applied.

It SAVES YOU MONEY! When you apply product onto dry hair, it absorbs more of it, and so you need to fill in the porous hair and you use more of the product. On average, you should only use 60-70ml on medium thick, bra strap length of hair. If you use more, you oversaturate the hair unnecessarily and it costs you more.

It saves you time as you don't have to dry the hair after shampooing, so that's 15 mins less in the process.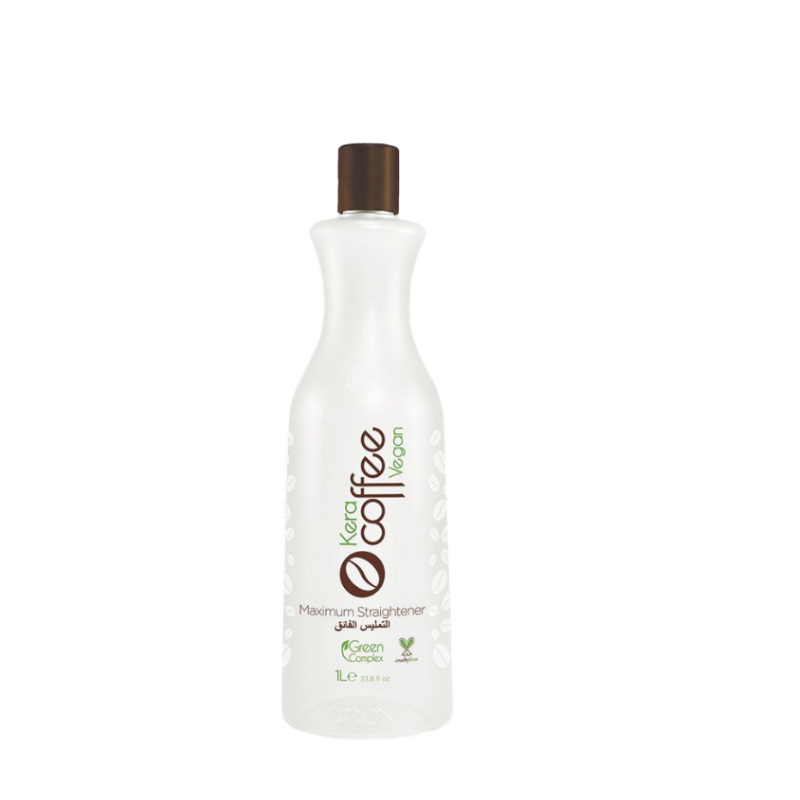 KeraCoffee Maximum Straightener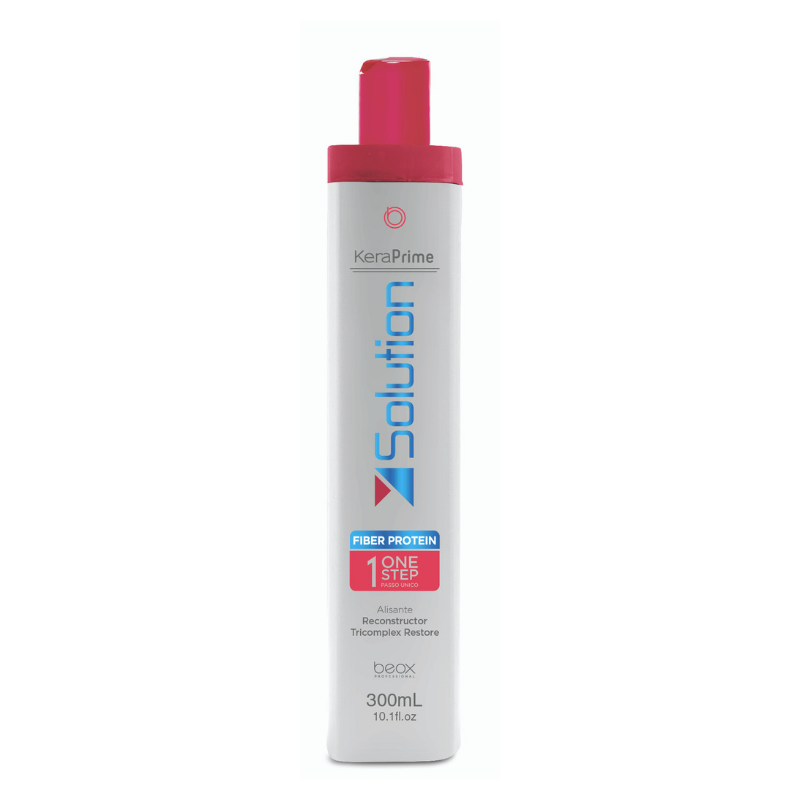 KeraPrime 1 Step Solution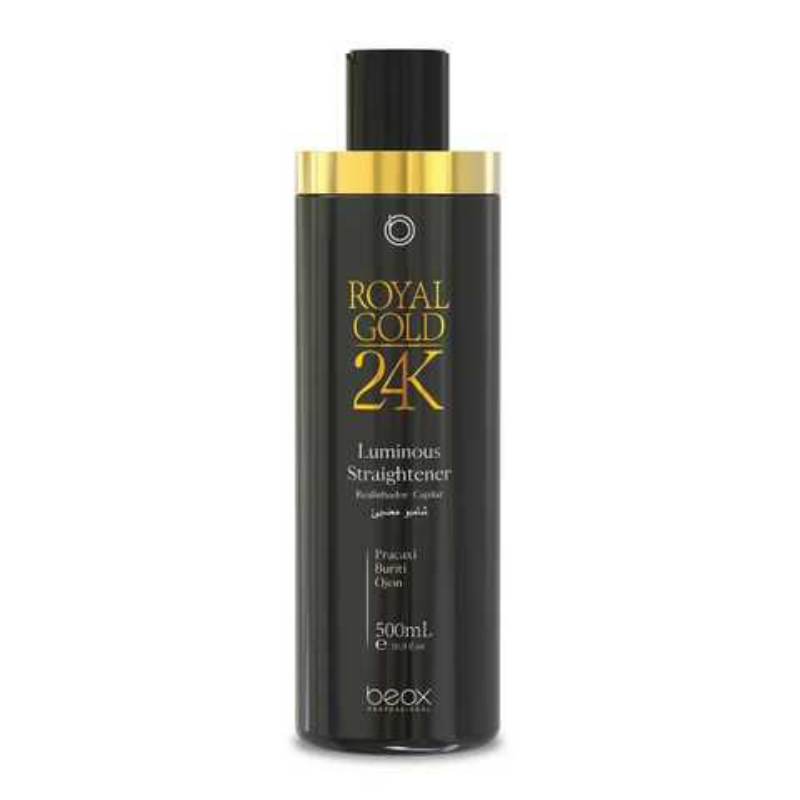 Royal Gold 24K Luminous Straightener
Easy application, no smells, no fumes, no heat
Our products are completely Formaldehyde free! There are no hidden chemicals that will irritate you or your clients senses. All products are pleasant to work with, and contain no harsh smells. They will not irritate your eyes or throat. Once applied, you only have to wait the required development time- no extra covering or heat is required.
NOTE: we do not recommend to add heat to speed up the process
Having the right straighteners, applying the correct temperature
I have a story to share with you…I received a call from one of our clients complaining that the product does not work! Following her application, literally step-by-step, she has done everything by the letter! So, why didn't it work??
When I had asked her what straighteners she used, she replied with - well the best ones. GHDs! Now, there is nothing wrong with these straighteners if they have temperature adjustment. If they don't, they are designed for the end user market with temperature way below 200°C. And our products are heat activated when heated at 200°C+!
So, in short what was happening, it's like putting a cake in a cold oven waiting for it to cook. Without the heat, the molecules of keratin can't melt into the hair shaft. What she had done was over drying the hair with irons and then rinsing the product out.
To make sure you are using the right straighteners, they should go up to 230°C so that you get the variety of heat for different hair types. We use KIEPE Straighteners that heats up up to 230°C.
Instant results
Our products work instantly. When your client leaves your chair, she is free to continue with her lifestyle without any restrictions. No more walking around for 3 days with greasy hair. No more planning when you can and can't have your keratin done - it's easy, it's instant, it's that simple!
NOTE: We do recommend rinsing the product out using KeraCoffee Recovery Shampoo as there isn't any extra benefit of leaving it in the hair and also to avoid irritation from the product left on the scalp.


How do you know if it worked?
Now, we all want the Eureka! moment when we see clients hair and its final result, right? You can see numerous shiny smooth flowing pictures on IG but… is this really the true result? Or is it straightened and airbrushed?
If you are following the correct procedure on how to apply our products, we recommend you rinse your client's hair and apply a KeraCofee Recovery Mask at the end. The mask is to "mask" any slight smell from the product- let's be honest, we are still working with chemicals here… but it's also to give the Feel Good Factor to your client at the end of the journey.
When you take your client back to the chair, the magic will happen. Just by rough drying the hair she is waiting for it to grow, like she has been used to in the "Diana Ross" unruly frizzy self. BUT the product is heat activated, meaning as soon as you apply heat, it goes straight. And that's it. It is straight. The product not only reduces the volume by 30% (if left to dry naturally) but also protects the hair from humidity, making it smooth, soft and shiny. Eureka!
Aftercare can prolong the overall results
Should or shouldn't your client use recommended aftercare? Well, this is part of my Retail Training where I will ask - Do you or do you not want to earn more money?
When thinking about this question, it actually answers both for the client and the stylist, but with different answer...
Client - we do recommend using the right aftercare to prolong the effect of keratin treatment. You should supply a KeraCoffee Recovery range of Shampoo, Conditioner and Mask to your client to make sure they use the correct and suitable products. What is the point of spending £150+ on keratin treatment and then using a cheap brand full of sulphates that strips the product out of the hair?
Hair Stylist - The best way to train your clients into the right aftercare is to add shampoo and conditioner or the 3 pack into the price of your first treatment. This way, hopefully they try and get used to using these products. And guess what? When they run out, they will ask you for more! So you are onto becoming a steady retail supplier - and a winner!
DropShipping - for mobile hairdressers we offer dropshipping services of our retail products. What it means is that you do not need to physically stock our product. You share a link or QR code (specifically designed for you only) with your clients and they can purchase when they need, share the link with their friends, pay for postage, we ship it and you get commission! It is that simple. If you would like to know more, please get in touch with us hello@vierihairsolutuons.com
NOTE: We do not sell our products on Amazon or eBay, therefore your clients should purchase these directly from you.
Maham Mustafa
Editor