All about the curls... And what the heck is the "Curly Girl Method"?
Are you blessed with curly hair?
Are on a quest for fuller, healthier and more defined curls?
Then keep on reading!
Curly hair is naturally more dry and frizzy than straight hair due to how the hair and cuticles of curls are shaped. But this can be maintained with the right hair care routine!
Our Brazilian Curly Bundle includes all the products you need to achieve smooth and frizz-free curls. It also fully supports the Curly Girl Method; a hair care method for enhancing curls naturally through avoiding any damage to your hair cuticles. As curly hair is more prone to dryness and frizziness, our Brazilian Curly product range helps to resolve this and as a result produces more fuller and well-defined curls.
The bundle includes a Moisturising Shampoo, Intense Mask, Extreme Cream and Leave in Conditioning Spray - all of which contain ingredients that stimulate hair growth and deeply nourish your hair, such as coconut oil, jojoba and myrrh.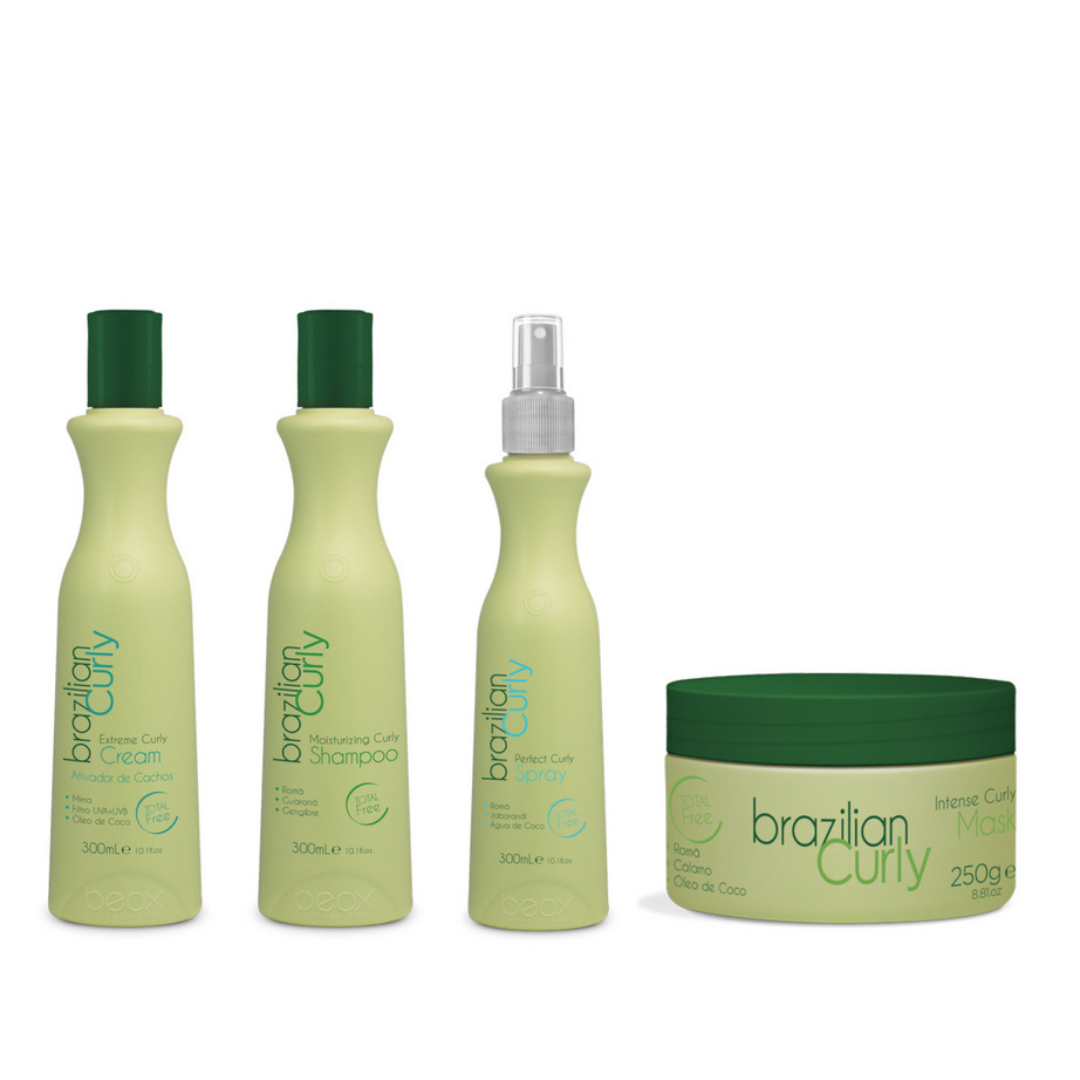 It's very important that the products you use for this method contain no sulphates and parabens, as these ingredients can cause curly hair to dry and frizz, consequently leaving your curls dehydrated and more prone to breakage. You should additionally try and avoid any silicone products, as this can lead to less bouncy curls. Lucky for you, our products are free of such ingredients!
Now, let's get into our step-by-step guide on how to successfully use our products for the Curly Girl Method:
STEP 1- Cleanse using our Brazilian Curly Moisturising Shampoo
Wet your hair and use your fingertips to gently massage the shampoo into your scalp for at least one minute before rinsing.
*Do not rub it in too vigorously as this can break your curls and make your hair frizzier and harder to untangle *
STEP 2- Condition using our Brazilian Curly Intense Mask
Apply a handful all over your hair and comb through with your fingers or a wide-tooth comb. Once you've lathered it completely, leave it on for 10-20 minutes and then rinse it out.
STEP 3- Dry your hair
Towel-dry your hair using a cotton t-shirt or disposable towel and squeeze any excess water out.
*Once again, do not rub your hair against the towel too vigorously due to the reasons mentioned in step 1 *
STEP 4- Style your hair using our Brazilian Curly Extreme Cream
Put a small amount of cream into your hands and use your fingers to evenly distribute it through your hair. Add more of the product if needed, but avoid overloading your hair with it. DO NOT brush or comb your hair after, but instead twist your curls. Once you've done this all over, leave your hair to dry NATUALLY for better results.
*If you're using a diffuser, use it on a low heat and speed and stop when your hair is roughly 80% dry to avoid any frizziness *
STEP 5- Finish using our Brazilian Curly Leave in Conditioning Spray
To add moisture and eliminate frizz, spray the product all over and scrunch your hair with your hands- DO NOT BRUSH!
*Use the spray again the next day to refresh your curls *
And that's it! Pretty simple right? In order to maintain your luscious curls afterwards, all you have to do is repeat this step-by-step process- try and avoid straightening your hair as this can loosen and flatten your curls!
Vieri Wickes
Editor